API594 300LB Bolted Cover Tilt Disc Check Valve 20 Inch 300 Lb WCB Tilting Disc Check Valve 500mm Flange Tilting Disc
| | |
| --- | --- |
| Item | Tilting Disc Check Valve |
| Certification | ISO9001,ISO14001,ISO18001,TS,CE,API |
| Brand | VERVO |
| Model number | H71Y-300LB-DN500 |
| Port Size | 20''/20Inch/DN500/500 |
| Structure type | Tilting Disc Check Valve |
| Pressure | 300LB |
| Temperature | -46-325 |
| Connection form | Flanged End |
| Material | Stainless Steel |
| Feature | Easy disassembly |
TILTING DISK CHECK VALVE

A tilting disc check valve is a check valve where the disc has a pivot point at the center of the disc. It is also known as a tilt check valve or a tilting-disk check valve. When flow is moving forward, the valve easily opens and when there is flow reversal, the valve immediately closes.
Tilting disc check valves are generally used in agricultural applications but they may be used in other applications as well. The valves are used when there is frequent flow reversal.
The disc acts almost as n air foil so once it is fully open, the process easily holds it open. This is different than a swing check valve where the velocity of the process must be high enough to keep the check valve open.
The tilting disc is much lighter and smaller than the disc in a swing check valve. Additionally, the center of gravity for the disc is very close to its pivot point. This means that the cracking pressure is much lower. The tilting disc check valve has much lower pressure drop at low flows than the swing check valve. However, at higher flow rates, the tilting disc has a higher pressure drop than the swing check valve.
TILTING DISK CHECK VALVE DESIGN CONSIDERATIONS

Orientation – The tilting disc check valve should be installed either horizontally or vertically with the flow going up. If the flow direction is down, gravity will work on the disc and cause it to open when there is no flow. It is up to the constructor to ensure that the valve is installed with the right side facing up. Otherwise, the valve will not close when needed.
Water Hammer – In applications where water hammer is expected, a tilting disc might help mitigate water hammer. The reason for this is the disc has a very low mass and can close quickly. This means that the valve will be closed before the returning pressure wave slams the disc shut.
Valve Maintenance – Compared to the swing check valve where there is a bolted cap on top, the tilting disc check valve is difficult to do maintenance on. It typically will require removal of the entire valve from the process which is longer and more expensive than opening the top of the valve. This is because tilting disc valves usually have a split body. However, if there is a situation where there is tampering by the personnel operating the swing check valve, such as removing the disk because they don't like it, a tilting disc might be a good solution.
Because maintenance of the valve requires removal, the designer should ensure that there are flanges put in to facilitate maintenance. In general, butt weld end tilting disc check valves should be avoided unless there are breakout flanges installed close to the valve.
Shutoff – Because the disc is designed to open and close quickly, it may be difficult to achieve tight shutoff unless there is a large pressure differential between the upstream and downstream pressures. For lower pressures, an elastomeric seal is recommended.
Standards Compliance:

» Design & Manufactured to API 6D, ASME B16.34 or Equivalent.
» P.T Ratings to ASME B16.34
» Face to Face Dimensions to API 6D or ASME B16.34 » Flanged Ends to ASME B16.5 » Butt-weld Ends to ASME B16.25
» Valves Marking to MSS SP-25
»Inspection&Tested to API 598 or API 6D
» Size Ranges from 2" thru 30"
» Pressure Ratings from Class 150 to Class 600, PN16 to PN100
» Ends Connections in Flanged R.F or RTJ, Butt-weld or Hub Ends
» Structured in Two Piece Bolted Body, One Piece Union Pressure Sealed Body
» A variety of body and trim material is offered, including carbon steel ASTM A216 WCB, WCC, Low Carbon
Steel LCB, LCC, Alloy Steel WC6, WC9, C5, Stainless Steel CF8, CF8M, CF3, CF3M, Duplex & Super Duplex Steel A890 GR.4A,5Aor F51, Special Materials in Monel, Alu. Bronze C95800, 95600 etc. Coatings may be
provided for added corrosion or wear resistance. Hard-facing and weld overlays may also be supplied. Seats
Options with metal-to-metal or bubble-tight resilient.
» Optional Bypass system, Dashpot & Counter-weight Assembly.
Production Process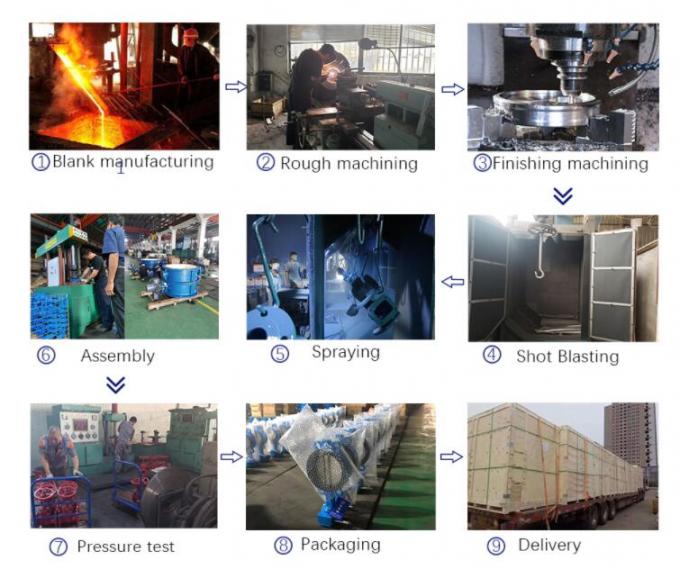 Quanlity Control

1) Before the order can be confirmed finally,we would strictly check the material,color,
dimension of the sample step by step.
2) We salesman ,also as a order follower,would trace every phase of production from the beginning.
3) We have a QC team ,every product would be checked by them before packed.
4) We would try our best to help clients solve problems when they occurred.
After Sales Service:
Any small problem happening in our products, will be solved at the most prompt time.
We always offer relative technical support.
Quick response, all your inquire will be replied within 24 hours.
Keywords of API594 300LB Bolted Cover Tilt Disc Check Valve 20 Inch 300 Lb WCB Tilting Disc Check Valve 500mm Flange Tilting Disc
DN500 API594 Tilting Disc Check Valve,300LB Tilting Disc Check Valve,Casting Steel Tilting Disc Check Valve, Casting Steel Carbon Steel Tilting Disc Check Valve,DN500 Tilting Disc Check Valve,300LB Casting Steel WCB Check Valve,API594 Tilt Disc Lift Non Return Valve,Tilt Disc NRV Check Valve