4 Inch Lug Double Eccentric Butterfly Valve 150LB A351 Cf8m 150Lb 100mm PTFE Seat Double Offset Butterfly Valve
VERVO High performance butterfly valve is a new butterfly valve designed on the basis of advantages absorbed from several different structures of butterfly valves. The seal surface of the disk is spherical arc, and the seal structure achieves a real dynamic seal through the system pressure, so it has excellent cut-off performance and durability. Its advantages are small size, light weight, owning a wide range of manufacturing, easy to repair and maintenance.
Basic Info


●Connection: Lug
●Seal: Soft Sealed
●Work Pressure: High Pressure (Pn<10Mpa)
●Material of Seal Surface: Soft Sealed
●Application: Industrial Usage, Water Industrial Usage, Household Usage
●Driving Mode: Worm Gear
●Structure: Double Eccentric/Double Offset
●Valve Stem: Normal
●Working Temperature: Low Temperature (T<150°C)
●Valve Body: Casting
●Size: 2" to 64"

1.Descriptions of product


Body: Carbon Steel/Stainless Steel
Disc: Carbon Steel/ Stainless Steel/Monel
Shaft: Stainless Steel/mMonel
Seat: PTFE/RPTFE/PPL
SIZE:DN50-DN1600
Operator:Worm Gear, Electric Actuator, Pneumatic Actuator

2.Uses of product


This product working temperature is -35° C-150° C and suitable for throttling or shutting off the flow of corrosive or incorrosive gases, liquids, semliquids, semiliquids and solid powder, and can be installed in and selected position in pipelines or on vessels in the industries of petroleum processing, chemicals, food, medicine, textile, paper making, hydroelectricity engineering, Ship building, water supply and sewage, metallurgy, energy engineering as well as light industry, etc.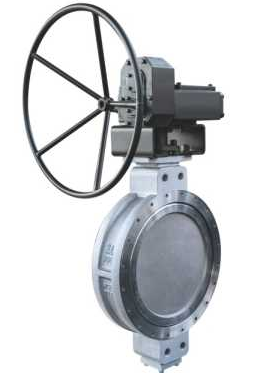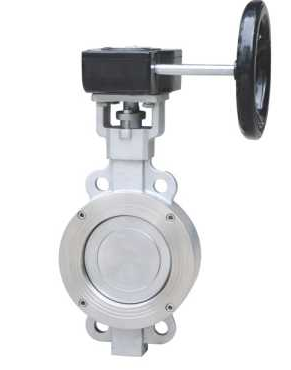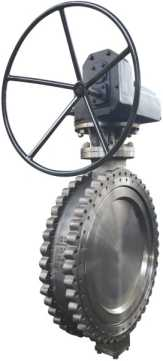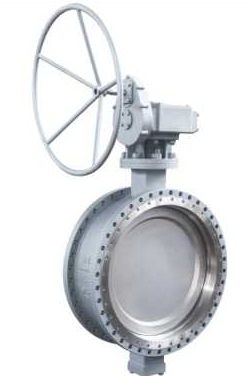 The Design of High Performance Butterfly Valve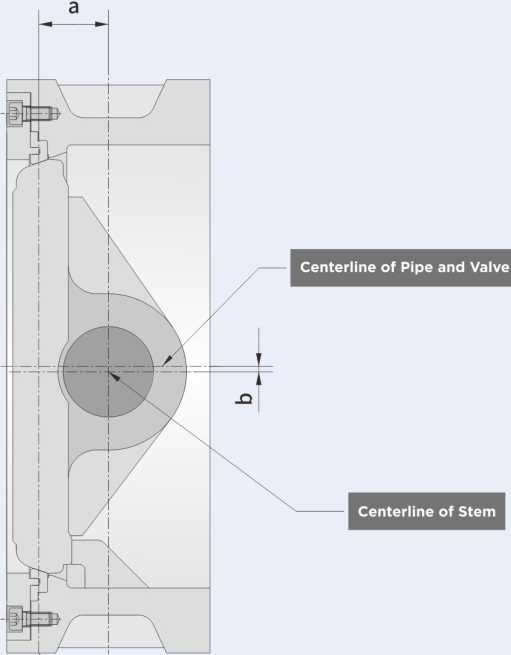 Centerline of Seal Surface
Design Criteria

Flange Standard

Face-to-face Length Standard

Test Standard

GB/T 12238

GB/T 9113

GB/T 12221

GB/T 13927

EN593

EN1092

EN558

EN12266-1

API 609

ASME B 16.5 ASME B 16.47B

API 609 ASME B 16.10

API 598
The double soft seal design of the high performance butterfly valve gives it zero leakage performance.

The high performance butterfly valve can get the disk detached from the seat quickly when the valve is opened,greatly eliminating the unnecessary over extrusion and scraping between the disk and the seat, reducing the opening resistance torque as well as the wear, and increasing the seat life.

The seat design of the high performance butterfly valve adopts different non metallic materials according to different customers to meet different working conditions. It can also use both soft seal and metal seal to make the valve fire seal by creating a double seal structure.

The external blow out proof stem of the high performance butterfly valve is safe and reliable, and conforms
​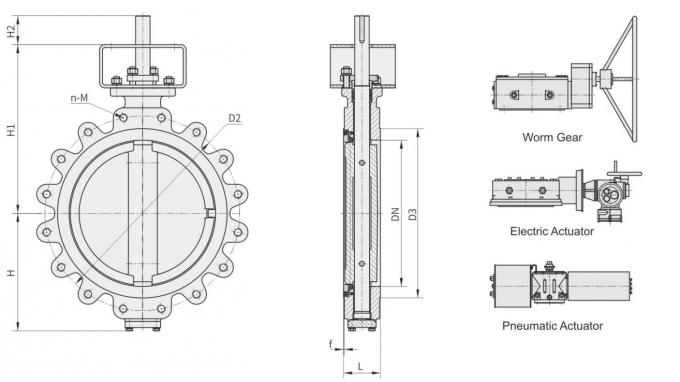 o

U)
CLASS150

DN

L

D2

D3

f

n-M

ISO5211

Nm

Weight

CV

H

H1

H2

2"(DN50)

43

120.7

92.1

2

4-5/8-11UNC

F07

24

5

65

64

162

40

2.5"(DN65)

46

139.7

104.8

2

4-5/8-11UNC

F07

35

6

113

70

172

40

3"(DN80)

48

152.4

127

2

4-5/8-11 UNC

F07

47

7

172

85

182

40

4"(DN100)

54

190.5

157.2

2

8-5/8-11 UNC

F07

75

10

385

92

208

40

5"(DN125)

57

215.9

185.7

2

8-3/4-10UNC

F07

112

12

658

117

222

40

6"(DN150)

57

241.3

215.9

2

8-3/4-10UNC

F10

169

16

1050

150

272

40

8"(DN200)

64

298.5

269.9

2

8-3/4-10UNC

F10

325

30

2180

187

307

60

10"(DN250)

71

362

323.8

2

12-7/8-9UNC

F12

558

48

3280

215

337

60

12"(DN300)

81

431.8

381

2

12-7/8-9UNC

F14

1200

75

5100

252

380

80

14"(DN350)

92

476.3

412.8

2

12-1-8UNC

F16

1620

90

5800

287

405

80

16"(DN400)

102

539.8

469.9

2

16-1-8UNC

F16

2130

100

9287

317

468

80

18"(DN450)

114

577.9

533.4

2

16-1 1/8-8UN

F16

3100

150

11400

347

485

90

20"(DN500)

127

635

584.2

2

20-1 1/8-8UN

F16

4000

210

13800

380

510

90

22"(DN550)

154

692.2

641.4

2

20-1 1/4-8UN

F25

5200

250

17000

430

575

90

24"(DN600)

154

749.3

692.2

2

20-1 1/4-8UN

F25

5800

300

21600

452

605

90
CLASS300

DN

2"(DN50)

L

D2

D3

f

n-M

ISO5211

Nm

Weight

cv

H

H1

H2

43

127

92.1

2

8-5/8-11UNC

F07

70

7

65

64

162

40

2.5"(DN65)

46

149.2

104.8

2

8-3/4-10UNC

F07

95

9

113

70

172

40

3"(DN80)

48

168.3

127

2

8-3/4-10UNC

F07

112

13

172

98.5

197

40

4"(DN100)

54

200

157.2

2

8-3/4-10UNC

F07

146

16

385

120

222

40

5"(DN125)

59

235

185.7

2

8-3/4-10UNC

F07

248

23

658

165

250

60

6"(DN150)

59

269.9

215.9

2

12-3/4-1OUNC

F10

378

30

1050

178

264

60

8"(DN200)

73

330.2

269.9

2

12-7/8-9UNC

F12

852

38

1895

215

323

60

10"(DN250)

83

387.4

323.8

2

16-1-8UNC

F14

1390

80

3050

252

358

60

12"(DN300)

92

450.8

381

2

16-1 1/8-8UN

F16

2200

110

4800

286

414

80

14"(DN350)

117

514.4

412.8

2

20-1 1/8-8UN

F16

3450

160

5395

324

456

90

16"(DN400)

133

571.5

469.9

2

20-1 1/4-8UN

F25

4080

250

7900

345

510

90

18"(DN450)

149

628.6

533.4

2

24-1 1/4-8UN

F25

5920

350

10086

405

550

110

20"(DN500)

159

685.8

584.2

2

24-1 1/4-8UN

F25

7900

450

11300

435

580

120

22"(DN550)

181

743

641.4

2

24-1 1/2-8UN

F25

10500

530

13000

480

610

150

24"(DN600)

181

812.8

692.2

2

24-1 1/2-8UN

F25

11800

610

16980

505

645

150
​Keywords of 4 Inch Double Eccentric Butterfly Valve PN20 A351 Cf8m 150 Lb 100mm PTFE Seat Double Offset Butterfly Valve High Performance Butterfly Valve

4 Inch Double Eccentric Butterfly Valve,PN20 A351 Cf8m High Performance Butterfly Valve,150 Lb High Performance Butterfly Valve,100mm PTFE Seat Double Offset Butterfly Valve,DN100 High Performance Butterfly Valve