F91 Globe Valve 1 Inch 2500LB Manual Globe Valve DN25 Y Pattern Globe Valve Pressure Self-Sealing Globe Valve Butt Weld
| | |
| --- | --- |
| Model number | YJ61Y-2500LB-DN25 |
| Item | Forged steel Y pattern Globe Valve 1inch |
| Certification | CE,ISO9001,ISO14001,ISO18001,TS,API |
| Connection form | Butt Welding |
| Body material | forged steel A182 F91 |
| Seal material | Gasket |
| Feature | Easy disassembly and assembly |
GLOBE "Y"-PATTERN VALVE DESCRIPTION

Features and benefits
VERVO pressure seal y-pattern globe valves offer lower and higher Cvs.
VERVO

's proven pressure seal design.

Low pressure drop compared to vertical globe valves.

Excellent resistance to the effects of thermal cycling.

Low torque stroking due to: 1) radial thrust bearings; 2) non-rotating stem; 3) impactor handwheel (3 –10 times more effective than standard handwheel).

Quick and easy repair in line.

Seat integrally hardfaced with CoCr alloy.

Disc fully guided with CoCr alloy seating and guiding surfaces.

Tight shutoff.

Stem expansion/contraction thrust unit for high temperature application (optional).

Other sizes available on request.

Live-loading of packing optional.
PRODUCT RANGE

Sizes NPS 1/2 to NPS 4
Class 800 to Class 2500
MATERIALS

Available in Forged (A105, A350 LF2, A182 F5, F11, F22, A182 F304 (L), F316 (L), F347, F321, F51), Alloy 20, Monel, Inconel, Hastelloy
DESIGN FEATURES

SW, NPT, RF, or BW
Outside Screw & Yoke (OS&Y)
Bolted Bonnet, Welded Bonnet or Pressure Seal Bonnet
DESIGN STANDARD

Design & manufacture according to API 602, ASME B16.34
End Connection according to ASME B16.11 (SW), ASME B1.20.1 (NPT), ASME B16.5 (RF, RTJ)
Test & inspection according to API 598
Also available per NACE MR-0175, NACE MR-0103, ISO 15848, API 624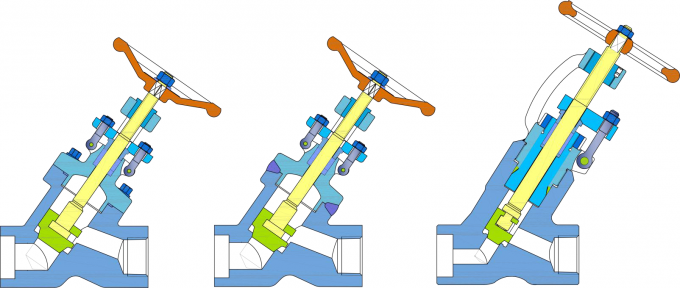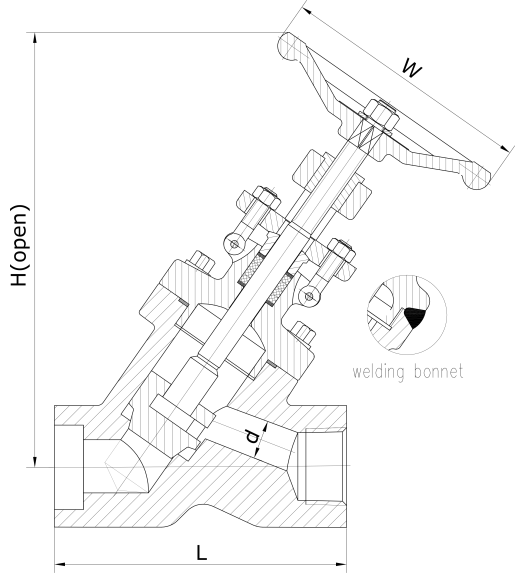 CL800

Bolt Bonnet (BB)/ Welding Bonnet (WB),
Full Port (FP), Outside Screw and Yoke (OS&Y), Thread (NPT), Socket Weld (SW), Butt Weld (BW)

Size (NPS)

F.P

3/8

1/2

3/4

1

1-1/4

1-1/2

2

Face To Face

L

100

100

100

120

140

140

172

Handwheel Diameter

W

100

125

160

160

160

180

200

Height

H

180

180

188

280

280

295

350

Flow Port Diameter

d

10

13.5

17

22

28

34

42

Weight (Kg)

B.B

3.8

4.6

4.6

9.3

14

14

19.6

W.B

3.7

4.5

4.5

9

13.5

13.5

19.1

CL900~CL1500

Bolt Bonnet (BB)/ Welding Bonnet (WB),
Full Port (FP), Outside Screw and Yoke (OS&Y),
Thread (NPT), Socket Weld (SW), Butt Weld (BW)

Size (NPS)

F.P

3/8

1/2

3/4

1

1-1/4

1-1/2

2

Face To Face

L

100

100

120

140

140

172

220

Handwheel Diameter

W

125

160

160

160

180

200

200

Height

H

180

188

280

280

295

350

365

Flow Port Diameter

d

10

13.5

17

22

28

34

42

Weight (Kg)

B.B

4.6

4.6

9.3

14

14

19.6

38.6

W.B

4.5

4.5

9

13.5

13.5

19.1

38

CL2500

Welding Bonnet (

WB

),




Full Port (

FP

), Outside Screw and Yoke (

OS&Y

),




Thread (

NPT

), Socket Weld (

SW

), Butt Weld (

BW

)

Size




(NPS)

F.P

3/8

1/2

3/4

1

1-1/4

1-1/2

2

Face To Face

L

120

140

140

172

220

232

Handwheel Diameter

W

160

160

180

200

200

250

Height

H

280

280

295

350

365

400

Flow Port Diameter

d

17

22

28

34

42

55

Weight




(Kg)

W.B

9.3

14

14

19.6

38.6

53.5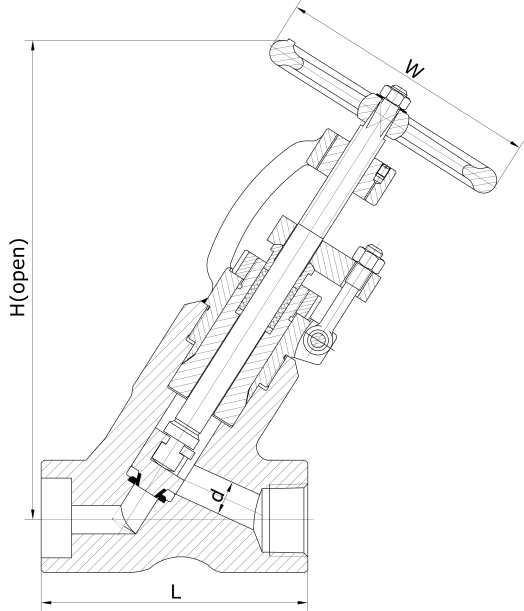 CL900~CL2500

Pressure Seal Bonnet (PSB),
Full Port (FP), OutSide Screw and Yoke (OS&Y), Thread (NPT), Socket Weld (SW), Butt Weld (BW)

Size (NPS)

F.P

3/8

1/2

3/4

1

1-1/4

1-1/2

2

Face To Face

CL900




CL1500

L

140

140

140

140

232

232

232

CL2500

140

140

140

140

232

232

272

Handwheel Diameter

CL900




CL1500

W

160

160

160

180

200

200

250

CL2500

Height

CL900




CL1500

H

280

280

280

295

350

365

400

CL2500

280

280

280

295

350

365

420

Flow Port Diameter

d

13

17

22

28

34

42

55

Weight (Kg)

CL900




CL1500

PSB

12.5

12.5

12.5

12.5

28

26.5

36

CL2500

12.5

12.5

12.5

12.5

28

26.5

42
Keywords of
F91 Globe Valve 1 Inch 2500LB Manual Globe Valve DN25 Y Pattern Globe Valve Pressure Self-Sealing Globe Valve Butt Weld

F91 PSB High Pressure Y Type Globe Valve,Pressure Seal Bonnet Y Type Globe Valve, "Y" Pattern PSB Globe Valve, 1 Inch Pressure Seal Globe Valve, 2500LB Pressure Seal Globe Valve ,Y Pattern Globe Valve, ASME16.34 Globe Valve,DN25 Y Type Globe Valve,F91 Globe Valve