Slab Gate Valve CF3M DIN 3352 Flat Gate Valve 14 Inch Gate Valve DN350 Gate Valve PN100 RF Flanged Gear Operation API6D
Name: Flat Gate Valve
Model: Gate Valve
Size: 2"--40"
Pressure: 150#-900#
Product Material: Carbon & Lowalloy steel/STL/Nickel bare alloy
Infomation


Flat gate valve widely used in oil, natural gas long-distance pipelines and gas fields Valves used in forging or casting body, the gate designed with diversion holes, non-diversion holes; single discand double disc structure; Seat used bi-direction seal seat which mainly based on the metal seat sealing and assisted with soft seat sealing as a second type of seal. The series of parallel type gate valve has rational design, compact structure, sulfur resistance, corrosion resistance, wear-resistant, reliable sealing, and light torque of switches, easy-to-use.
Design Standard


Basic Design: API 6D, ASME B16.34
Test: API 6D, API 598

Product Range


Size: 2" ~ 40"(DN50 ~ DN1000)
Rating: ANSI 150lb ~ 900lb
BodyMaterials: Carbon Steel, Stainless Steel, Alloy Steel
Operation: Handwheel, Gear, Electric, Pneumatic, Hydraulic

Design Features

Block and Bleed Capability
When in the closed position the Calvary valve forms a tight seal on both seats, allowing the valve body to be drained. For specific application please consult factory.
Tight Mechanical Seal
Both upsteam and downstream are blocked off simultaneously. This me-chanical advantage is normally undisturbed by pressure gradient fluctua-tions or vibrational reflux. The seal is both TFE-to-metal and metal-to-metal.
Smooth, continuous conduit
Virtual elimination of turbulence. Pressure gradient through valve stays the same, relative to the pressure drop in an equal-length pipe.
Seat Face Protection
Seat life is greatly extended by engineering the seats to face outwards in order to avoid contact with the flow medium and engage fully with the gate. This protection is in both the fully open and fully closed positions.
Gate Centralizer
Valve diameters that are 6 inch or larger feature the leverlock gate central-izer, which retains the gate- segment assembly in a neutral position during opening and closing travel. However expansion of the assembly for seating, in an open or closed position, is permitted.
Actuation
The VERVO 6D gate valve is furnished with either hand wheel or bevel gear operators, but they can readily be adapted to fit a wide range of power operators if desired. Power operators can be installed in the field or at the manufacturing facility.
Thermal Relief Options
The split gate design allows for excess body pressure to develop in the body cavities of closed valves, and usu-ally results from heating in the valves in liquid service. A thermal body cavity relief system can be provided to relieve the excess body pressure upon request.
About Us
VERVO is an ISO 9001 certified company specializing in manufacturing industrial valves including ball valves, gate valves, globe valves, check valves, plug valves and butterfly valves in carbon steel, stainless steel, duplex stainless and alloy materials. Our products conform to the latest industry standards in accordance to ANSI, ASME and API.VERVO today has over 10000 square meters of manufacturing facilities. Through its conviction to provide only the finest quality products and services to match the need of our customers, VERVO has now established itself as a serious player in the valve business.
VERVO has sold worldwide in North America, Europe, South America, South Asia, Africa and the Middle East. We consider product quality and customer satisfaction as our highest priority.
We look forward to new customer relationships by providing value, quality, customer service,honesty, integrity and the commitment to maintain product consistency with each and every order.
FAQ

1/Do you have any Certification ?
Yes we have ISO9001-2015 and CE/PED according to Directive 2014/68/EU,fire safe certificate,ISO15848-1
2/Can we visit your factory?
Sure, we welcome you to visit our factory , check our production lines and know more about our strength and quality.
3/Do you have quality control system?
Yes, we have ISO/PED certifications and our own quality control laboratory.
4/Can you arrange the shipment for us?
Yes, we have designated sea freight and railway freight forwarders with decades of experiences and we get the best price with earliest vessel and professional service.
5/Can I get some samples?
We are glad to provide free samples to you, but the express fee will be on your charge.
6/What is your after-sale service?
We provide after-sale service and offer 100% guarantee on our products.
7/What is your main products?
Valve, and in order to meet different needs, we expanded our business, we also do sanitary type products.
8/Are you trading company or manufacturer
We are factory, and welcome to visit our factory
9/What is your MOQ
No MOQ, As your request .Normal size and material we have stock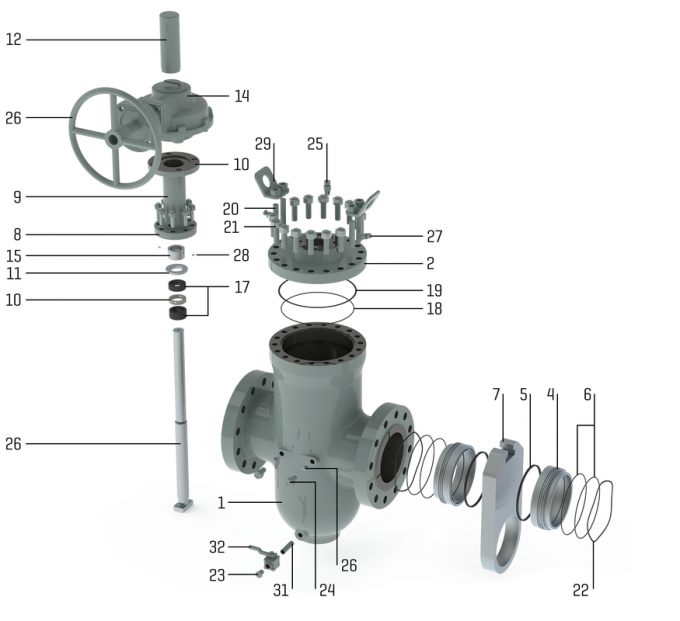 Keywords of Slab Gate Valve CF3M DIN 3352 Flat Gate Valve 14 Inch Gate Valve DN350 Gate Valve PN100 RF Flanged Gear Operation API6D

Slab Gate Valve,Flat Gate Valve,CF3M Flat Gate Valve,DIN 3352 Gate Valve,14 Inch Gate Valve,PN100 Flat Gate Valve,RF Flange Flate Gate Valve,Expanding Gate Valve,Expanding Through Conduit Gate Valves,Gear Box Operated Flat Gate Valve,Cast Steel Flat Gate Valve