Dn20 Hex 3/4 Inch 2000 PSI Floating Ball Valve Carbon Steel 2 Piece 2pc
Design Standard:
API608
Body Material::
A216 WCB
Nominal Diameter:
3/4 Inch
Pressure:
2000PSI
End Connection.:
FNPT
Face To Face:
FACTORY STANDARD
Test And Inspection:
API 598
High Light:

2000 Psi Floating Ball Valve

,

Dn20 3/4 Floating Ball Valve

,

VERVO 2pc ball valve
Dn20 Hex Ball Valve 3/4 Inch 2000PSI Lever Floating Type Ball Valve Carbon Steel Ball Valve 2 Piece
Product Application

Features

:

● Mediums:

Water, Oil & Gas. (WOG)

● Seats & Seals:

Teflon (PTFE)

● Threads:

Female NPT (National Pipe Thread)

● Full Port:

Full Port Ball Valve

● Handle:

Blow-Out Proof

● Handle Locking Mechanism:

handle equiped with locking device (Re-movable)



Performance Specifications

:




● Pressure Rating: 2

000 PSI 




●Temperature: 

-13⁰F to 302⁰F (-25°C to 150°C)




● Shell Test:

 20MPa




● Seat Test: 

0.6~0.8Mpa
General Characteristics:
●

Designed for high pressure applications, these valves have double the pressure rating than our standard offerings.

●

The Valve Body is Heavier, longer and more robust than other 2-Piece ball valves.

●

Although these valves are over-qualified, they can be used in everyday applications in place of the standard options.
Material List Chart:
● Valve Body:

Stainless Steel 316 (CF8M)

● Seats and Seals:

The Seal Seat is composed of Teflon (PTFE) which makes this Robust Valve corrosion resistant,Heat & Chemical resistant.

● Compatibility:

Suitable to be used with any substance compatible with Stainless Steel and Teflon (PTFE).

●

All wetted parts of the valve that touch the product being transferred are PTFE (Teflon) and 316 Stainless steel (CF8M).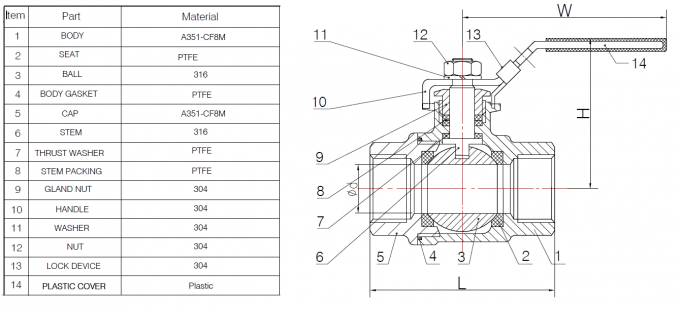 ● General Dimensions:
●

The valve body is heavier, longer and more robust that the standard 2 piece Ball valve.

●

The size of the thread determines the size of the ball valve needed. (A 3" Thread will need a 3" ball valve and so forth.)

●

These threaded ball valves don't require any tools to install. (The Female NPT Thread of the valve will screw directly onto a Male NPT Thread)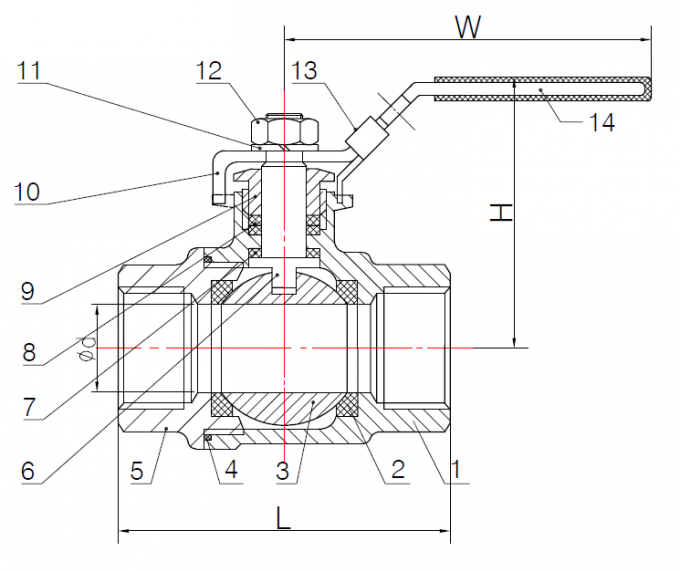 SIZE
φd
L
H
W
N.M
KGS
DN8
1/4"
12.5
56.5
48
105
4
0.28
DN10
3/8
12.5
56.5
48
105
4
0.28
DN15
1/2"
15
65.5
53
110
5
0.43
DN20
3/4
20
77.5
62
135
8
0.59
DN25
1
25
89
75
150
10
1.06
DN32
11/4"
32
104
83
150
14
1.50
DN40
11/2
38
122
91
177
25
2.39
DN50
2
50
124.5
102
183
40
3.40
Design Data

:

● Design Standard:

ASME B16.34

● Nominal Diameter:

DN8-DN50(1/4"~2")

● End Connections:

DIN259/2999,ISO228/1&ISO7/1

● Threads:

ASME B1.20.1,BS21

● Inspection & Testing:

According to API 598, EN12266-1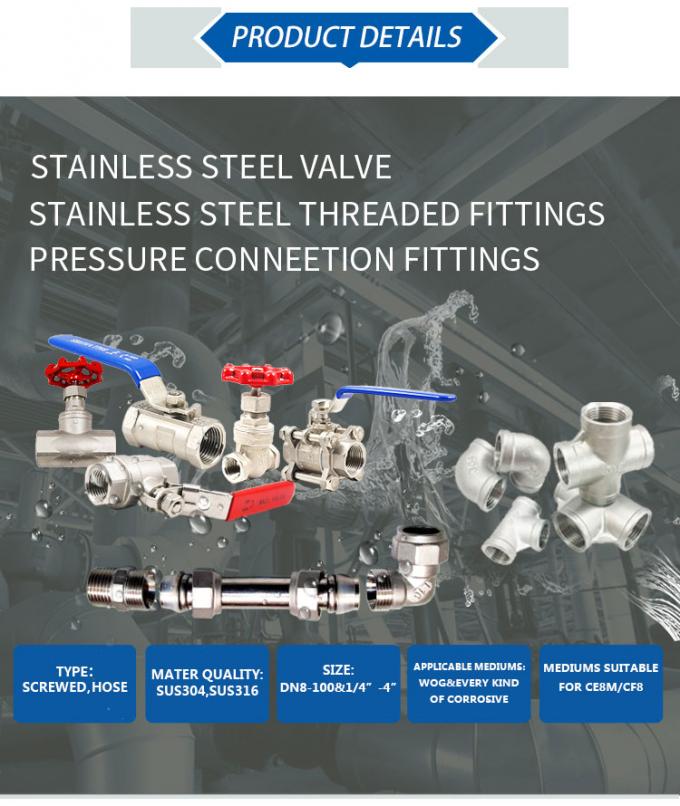 Keywords of Dn20 Hex Ball Valve 3/4 Inch 2000PSI Lever Floating Type Ball Valve Carbon Steel Ball Valve 2 Piece

DN20 Ball Valve,SS Ball Valve,2 Piece Ball Valve,Soft Seal Ball Valve,Two Piece Ball Valve,Forged steel Stainless Steel Ball Valve,Metal to Metal Seat Ball Valve