Design
VERVO cast steel gate valves are designed and manufactured to provide maximum service life and dependability. All gate valves are full ported and meet the design requirements of American Petroleum Institute standard API600&API 6D,British standard BS1414& BS EN 1984 and generally, conform to American Society of Mechanical Engineers standard ASME B16.34. Valves are available in a complete range of body/bonnet materials and trims.
Ranges of Materials
Standard body/bonnet materials include nine grades of carbon, low alloy and stainless steels. For special applications they can be supplied in other grades of alloy and stainless steel. There's a full range of trim materials to match any service .optional packing and gasket materials are available for a full range of service conditions.
Available Modifications For VERVO Steel Valves
Trim Changes
End Connection Modifications
Packing and Gasket Change
Operator Mounting
Handwheel Extensions
Pressure Equalizing
By-Pass
Customer Specified Coatings
Weld End Bore Changes
Oxygen & Chlorine Clearing & Packaging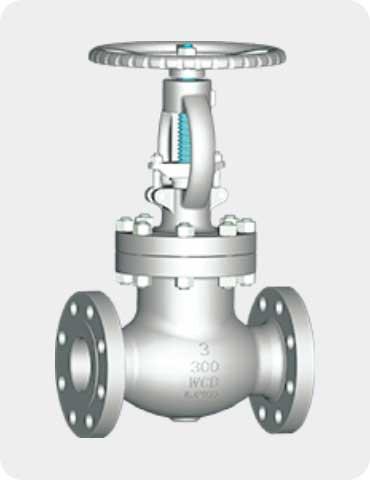 A)Operation
Large handwheels for easy operation. alsoavaliable with gearing.motor actuators, pneumatic or hydraulic actuators for more difficult services.
B)Live Load Packing
In services requiring frequent cycling or with high pressure/temperature variations,live loading extends the service life between maintenance periods by requiring less stments. Belleville springs are employed to provide constant packing gland stress.
C)OS&Y
Outside screw and yoke.Cast steel gate valve yoke integral with bonnet for 150Lb-8″ 600Lb-6″, 900Lb-4″&small.
D)BB
Bolted bonnet, welding bonnet and pressure seal bonnet in services requiring frequent cycling or with high pressure/temperature variations.
E)End Connections
A choice of flanged, RTJ flanged or buttwelding end for piping flexibility.
F)Yoke Sleeve
Extra long thread engagement between yoke sleeve and stem provide long thread life.valves of sizes larger than 150Lb-12″, 300Lb-10″,600Lb-6″, 900Lb/1500Lb/2500Lb-4″ are regularly provided with roll bearing yokes.
G)Lantern Ring And Double Packing Set
Lantern ring leak-off fitting connection and double packing stack is optionally avaliable for critical services
H)Body-to-Bonnet Joint
A flat face gasket joint is used in the 150lb valves. A male and female joint is used in 300lb to 600lb valves.ring joint is used in the body to bonnet connections in 900lb & higher rated valves.
I)Stem
All wedge gate valves are provided with upset forged T-head stems. By forging the T-head ,the stem at the stem-wedge connection is stregthened,this design also allows the wedge possibility of a bent stem jamming the wedge.
J)Wedge
Integral guide rib faces assure self-centering of wedge.flexible wedge gate valve has a onepiece, twin-disc wedge,which is designed so that each half flexes independently.avaliable in solid, flex split and his designs.
Applicable Standards:
●STEEL GATE VALVES API 600/API6D
●STEEL GATE VALVES ISO 10434/ISO 14313
●STEEL VALVES,ASME B16.34
●FACE TO FACE ,ASME B16.10
●END FLANGES ,ASME B16.5
●BUTTWELDING ENDS,ASME B16.25
●INSPECTION AND TEST API 598/API 6D
Design descriptions:
●FULL PORT DESIGN
●OS&Y OUTSIDE SRCEW AND YOKE
●BB.BOLTED BONNET
●FLEXIBLE WEDGE,FULLY GUIDED
●CHOICE OF SOLID OR SPLIT WEDGE
●RENEWABLE SEAT RINGS
●FORGED T-HEAD STEM
●RISING STEM AND NON-RISING HANDWHEEL
●FLANGED OR BUTTWELDING ENDS
●AVAILABLE WITH BG OPERATOR
Wedge Gate Valve CN7M gate Large handwheels And Bolted Bonnet Valve RTJ Flanged Or Buttwelding End For Piping Flexibility

Alloy20 Gate Valve,CN7M Gate Valve,DN50 Gate Valve,API 600 Gate Valve, CN7M Gate Valve, 2 Inch Gate Valve, CL300 Gate Valve, Handwheel Gate Valve, Rf Flanged Gate Valve, Full Bore Gate Valve, Cast Steel Gate Valve, LCB Gate Valve,LCC Gate Valve,CF8 Gate Valve,CF8M Gate Valve, 4A Gate Valve, 5A Gate Valve,ASME B16.34 Gate Valve