Pig valve
Pig valve The best way to transport oil and gas is by pipeline, which has the advantages of high transport efficiency, low cost, low losses, and low environmental pollution.
To ensure the safety, efficiency, and smoothness of pipeline transportation, it is necessary to use the "pipe cleaner" to clean the pipeline. The "pig valve" and "pipe cleaner" together from a pipe cleaning operation device. It can be used as both the launch receiving device and the opening & closing valve of the pipe cleaner, which is called the "pipe cleaner launch receiving valve". (abbreviated as "pipe cleaner").
Pig Valve General Application
Before the new pipeline is put into operation, remove all kinds of residues in the pipe to make the pipeline unobstructed.
Rust removal and anticorrosion coating on the inner wall of new
Do regular oil pipe scraping wax and gas pipe de-watering on the put into the production It can maintain an effective transmission capacity for a long time. At the same time, reduce the corrosion in the pipe wall and extend the service life of the pipeline.
It can be used as an isolation and quality exchange of different kinds of media conveyed in the same
Pipeline water pressure before exhaust and water pressure test after
Pig Valve General Information
Main Construction
The main types of products are mainly three types according to product function, usage, and pipe cleaning valve.
B type of pipe cleaning valve: pipe cleaner launch and receive the whole process of fluid flow without suspension. See figure (2)
Figure (2) B type pipe Pig Valve
C type: The fluid is not interrupted when the cleaner is launched and enters the cleaning valve, but when the pig was removed, the flow was interrupted briefly. (See Figure (1))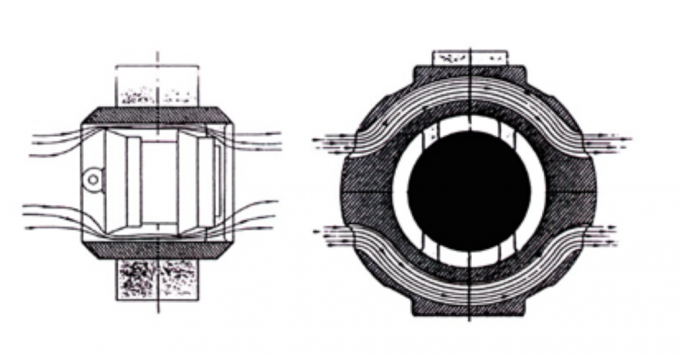 Figure (1) C type pipe cleaning valve
PS type Pig Valve: The fluid flow is interrupted for a short period during both launching and receiving purge, and the PS type is used when different types are transported in sequence or prevent mixing of transported (See Figure (3))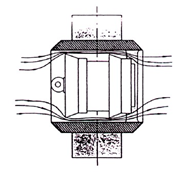 Figure (3) S type Pig Valve
Main structural features and working principle
Structural features. The structural features of the cleaning valve are innovatively designed after adapting and increasing the functions based on the structural principle of the three-way ball valve.
Working principle. The working principle of pipe cleaning valve is: the pipe cleaner is placed (or received) in the inner cavity of the sphere of the pipe cleaning valve, through the sphere in the "┴"- shaped (inverted "┬á" three-way valve body with mutual vertical, for reciprocal 90 ° rotation movement. When the sphering channel and the pipeline channel are on the same axis, the pipe cleaner is launched and received by the pipe cleaner valve under the fluid pressure in the pipeline, and its working principle is shown below. the principle is shown as follows.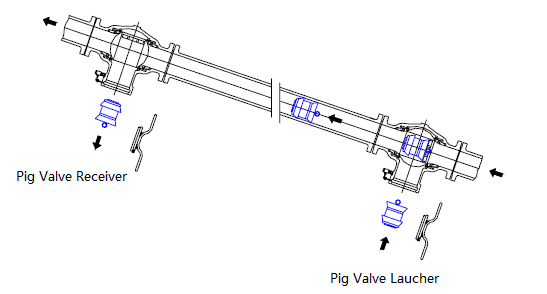 Additional information
| | |
| --- | --- |
| Size | NPS 2" – NPS 24" (DN50 – DN600) |
| Pressure Rating | Class 150LB – Class2500LB (PN1.6 – 42.0 Mpa) |
| Material | WCB, LCB, CF8, CF8M, CF3, CF3M, A105, LF2, F304, F316, F304L, F316L |
| Design & Manufacturing Standard | API 608, API 6D, BS 5351, ASME B16.34 |
| Fact to Face | ASME B16.5, API 6D, GOST |
| End Connection | ASME B16.5, ASME B16.47, ASME B16.25, GOST, EN/DIN |
| Test and Inspection | ISO 5208, API 6D, EN 12266, GOST |
| Operation Method | Manual, Actuator |
| Temperature Range | -196℃ – 400℃ |
| Application | oil, oil products, natural gas containing sulfur, purified natural gas, as well as gas, water, and other media. |
Keywords of Pig Valve It Can be used as isolation and quality exchange of different kinds of media conveyed in the same valve

DN250 API6D Pig Check Valve,2500LB Pig Check Valve,Casting Steel Check Valve, Carbon Steel Pig Check Valve,DN250 Pig Check Valve,BS1868 SS Pig Check Valve,API6D Non Return Valve,NRV Check Valve,Valve Supplier,Valve Manufacturer,Pressure Seal Cover Pig Check Valve